Strong Start for Sterling
The new year did not bring new restrictions, even in the face of record numbers of COVID-19 infections ascribed to the Omicron variant. Prime minister Boris Johnson addressed the nation once again on Tuesday, explaining that he plans to "ride out" the current wave of the pandemic without measures that might damage the many sectors still in recovery. Markets reacted positively to the announcement, paving the way for sterling to advance against its major counterparts. The pound rose 0.5% against the US dollar, up to 1.3597, and almost touched 1.2000 against the euro. Meanwhile, December's manufacturing purchasing managers' index (PMI) reading dipped slightly month-on-month to 57.9. Rod Dobson, a director at IHS Markit, chalked this up to continuing supply-chain delays and weak exports arising from Brexit-related issues.
In the US, the so-called Great Resignation shows no sign of slowing: on Monday the Job Openings and Labor Turnover Survey reported that some 4.53 million Americans quit their jobs in November. Analysts cited plentiful job openings and rising pay as the driving factors, both leading to increased mobility within the labour market. However, Friday's non-farm payrolls report showed that job creation slowed in the month of December – only 199,000 jobs were added to the economy, falling far short of the 422,000 predicted by experts. In better news, the US unemployment rate fell to a pandemic low of 3.9%.
Minutes from a meeting of the Federal Open Market Committee were finely combed on Wednesday for hints on the timing of an interest-rate hike. In light of their hawkish tone, markets now see a 75% chance of a move by March. This view was bolstered by policymaker Chris Waller's recent suggestion that an imminent hike is "very likely".
In the eurozone, recovery continues to lag behind other major economies; a composite PMI reading of 53.3 for December represents the area's weakest expansion in private-sector activity since March 2021. Progress has been weighed down by particularly strict COVID measures in Germany, but as the virus continues to flare, the introduction of restrictions in the wider bloc now seems a real possibility. This would come against a backdrop of excessively hot inflation which, we learned on Friday, has accelerated past already record levels.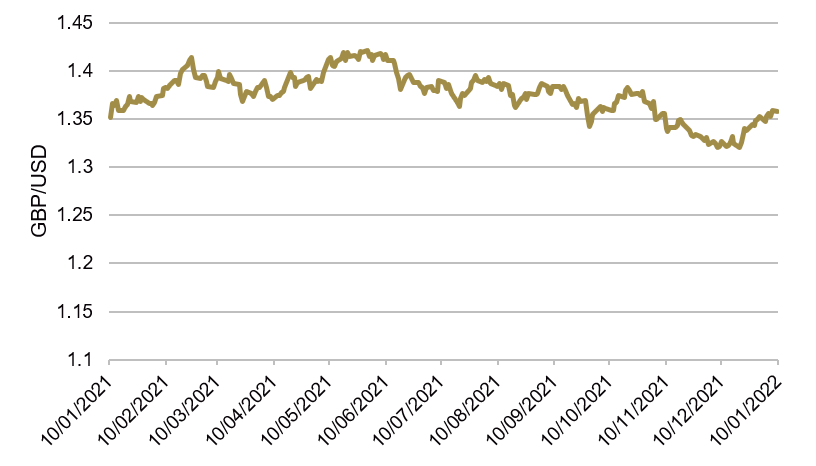 Data scheduled for release in the early part of the week looks unlikely to lift sentiment in the euro bloc. The unemployment rate seems set to persist at around 7.3%, while industrial production is expected to have contracted slightly month-on-month.
Attention in the US will shift to inflation rates on Wednesday. Economists forecast little change to the high figures reported in recent months. December's consumer price report could show it creeping above 7% for the first time since 1982. The Federal Reserve indicated last week that it is prepared to act "sooner or at a faster pace" with regard to raising rates, and the scaling back of its bond-buying programme will increase flexibility to do so.
Finally, the UK will announce November's GDP and industrial-production data on Friday; both are expected to show modest improvements. That said, when it comes to assessing growth, markets are likely to place more interest on December's figures in the next release. These figures will factor in any damage caused by the emergence of Omicron and subsequent 'Plan B' restrictions.
Currencies
| Pair | Last | 12-month high | 12-month low |
| --- | --- | --- | --- |
| GBP/EUR | 1.1991 | 1.1998 | 1.1066 |
| GBP/USD | 1.3577 | 1.4248 | 1.3163 |
| GBP/CHF | 1.2511 | 1.3074 | 1.1969 |
| EUR/USD | 1.1323 | 1.2266 | 1.1186 |
| GBP/AUD | 1.8888 | 1.9154 | 1.7468 |
| GBP/ZAR | 21.2482 | 21.7684 | 18.9546 |
| GBP/CAD | 1.7165 | 1.7887 | 1.6641 |
| GBP/SEK | 12.3324 | 12.3943 | 11.1444 |
| GBP/NOK | 12.0039 | 12.4205 | 11.3830 |
| GBP/INR | 100.6941 | 105.3777 | 98.9693 |
Economic data
| Date | Release | Last | Exp |
| --- | --- | --- | --- |
| 10/01/22 | EZ Unemployment Rate | 7.3% | 7.3% |
| 12/01/22 | EZ Industrial Production MM (Nov) | 1.1% | 0.5% |
| 12/01/22 | EZ Industrial Production YY (Nov) | 3.3% | 1.1% |
| 12/01/22 | CN Inflation Rate YY (Dec) | 2.3% | 2% |
| 12/01/22 | US Inflation Rate MM (Dec) | 0.8% | 0.5% |
| 12/01/22 | US Inflation Rate YY (Dec) | 6.8% | 7.1% |
| 14/01/22 | UK GDP MM (Nov) | 0.1% | 0.4% |
| 14/01/22 | UK GDP YY (Nov) | 4.6% | 7.5% |
| 14/01/22 | UK Industrial Production MM (Nov) | -0.6% | 0.3% |
| 14/01/22 | UK Industrial Production YY (Nov) | 1.4% | 1.5% |